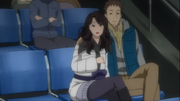 Anya watches the short program during the Cup of China and is so taken aback by Georgi's emotional performance that she moves closer to her current partner for comfort.
Anya is seen watching the free skate at the Cup of China, but stands up to leave during Georgi's program. She flashes him a thumbs-down, and he appears to be able to see it, as he reacts in a devastated manner.
Ad blocker interference detected!
Wikia is a free-to-use site that makes money from advertising. We have a modified experience for viewers using ad blockers

Wikia is not accessible if you've made further modifications. Remove the custom ad blocker rule(s) and the page will load as expected.