Emil Nekola (Japanese: エミル・ネコラ, Emiru Nekora) is a Czech figure skater featured in Yuri!!! on Ice.
 Background
Emil was a competitor at the World Championship in Yoyogi in the previous season.
He won bronze at Skate Canada International in the current season.
Appearance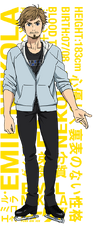 Emil is a tall young man with an athletic build. He has messy light brown hair, blue eyes, stubble, and a short beard. 
Short Program
During his short program, Emil wears a dark costume with a black vest, gray, puffy sleeves, and a black cravat. 
Free Skate
During his free skate, Emil wears a blue one-piece costume with silver, geometric decorations, and a wide blue belt. 
Personality
Emil is kind, straightforward, honest, and a true gentleman. He has a younger brother and protege-like temperament, so he's easily ordered around, usually by Michele. He is very sociable, often asking Sara and sometimes Michele to go out for dinner or drinks with him, and is the only one who returns Yuuri's hug during Yuuri's brief hugging spree after the Rostelecom Cup free program.
Skills
Jumps
Emil has a great jumping ability and is the only skater other than Seung-gil Lee and JJ to land a quad loop in competition.[1]
Relationships
Michele is rather wary of Emil trying to get together with Sara, but the two are good friends. They sit together while watching Final.[2]
Given his friendship with the elder Crispino twin, Emil also gets along with Sara. He often tries to ask her to go out for dinner or drinks with him, but Michele always turns these offers down.
Programs
The track is the theme of a sci-fi film also called Anastasis.
Quotes
Trivia 
Emil does extreme sports during the off season, which makes his coach nervous.
He has cameos in Episode 1 (mentioned on tv) and in episode six (pictured on the podium at Skate Canada along with Jean Jacques Leroy and Yuri Plisetsky.)
His season's theme is described as being "Cyberpunk: I'm No Longer Human."[3]
References
Ad blocker interference detected!
Wikia is a free-to-use site that makes money from advertising. We have a modified experience for viewers using ad blockers

Wikia is not accessible if you've made further modifications. Remove the custom ad blocker rule(s) and the page will load as expected.