Isabella is with JJ when Yuri is bombarded by Yuri's Angels, comparing his wild fangirls to the "better behaved and more attractive" JJ Girls. Yuri yells at her in defense of his fangirls. Later, when most of the skaters are at a restaurant at Yuuri's invitation, JJ and Isabella interrupt, and JJ declares that he will win the Barcelona Grand Prix and get married. The rest walk out on them, to JJ's dismay, as he tries to convince them that it was a joke.
Isabella watches JJ's short program. She sings along to his short program song to encourage him and starts a chant in the arena to comfort him after he receives his low score.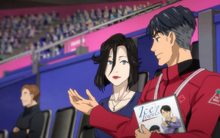 Isabella cries as she watches JJ's free skate. Later, she is seen standing beside JJ when JJ promotes his new book.
Ad blocker interference detected!
Wikia is a free-to-use site that makes money from advertising. We have a modified experience for viewers using ad blockers

Wikia is not accessible if you've made further modifications. Remove the custom ad blocker rule(s) and the page will load as expected.