Kenjirou is shown in a flashback when Yuuri recalls his last competition in which he lost to him.
Kenjirou is first seen waiting to pick a number for his turn to perform along with three other skaters. He is openly eyeing Yuuri and said that he's happy to be able to watch Yuuri perform first. He gets the fourth place spot among the named skaters to perform. He continues fawning over Yuuri while doing warm-ups, to the point that his coach notices and asks him to focus.
His short program uses Lohengrin as the background music, but the performance itself has little screen time. The only notable jump in the program is his triple axel. He becomes upset when discovering that Yuuri did not watch it, as Kenjirou had planned the program based on Yuuri's Lohengrin and even wore a similar costume. Yuuri then stated that the costume was from his dark past, which Kenjirou disagrees with wholeheartedly. He then challenges Yuuri, as someone he looks up to and beat at the previous season, despite himself getting last place in the short program with a score of 62.83.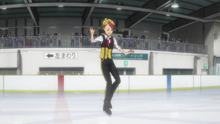 The day of their free program performance, Kenjirou smiles at Yuuri brightly, but the latter quickly averts his gaze, upsetting Kenjirou. However, before the start of his performance, Yuuri, at the last minute, cheers for him and Kenjirou immediately brightens up. He performs first among the skaters for his free program, skating with Minami's Boogie as his background music. He receives a score of 152.14 for his free skate and a total score of 214.97, a personal best.
He is later seen at the podium along with Yuuri and Hikaru Fujiwara, having placed second.
Kenjirou is briefly seen towards the end of the episode at Yu-topia Katsuki, having formed a cheer squad with the Nishigori triplets to cheer for Yuuri during the Grand Prix Finals.
Kenjirou cheers Yuuri on during his short program in Hasetsu during the Grand Prix Final with Yuuri's family, Yuuko, Takeshi, and the triplets.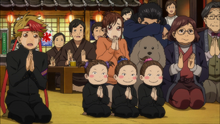 Kenjirou cheers Yuuri on during his free skate as well. He also watches Yuri's Free Skate, hesitant at first, and ends up fanboying over him too.
Ad blocker interference detected!
Wikia is a free-to-use site that makes money from advertising. We have a modified experience for viewers using ad blockers

Wikia is not accessible if you've made further modifications. Remove the custom ad blocker rule(s) and the page will load as expected.