Michele is seen in an elevator with Sara and Emil, warning Emil to keep his hands off Sara.
Later, he performs his short program. He thinks about Sara during the entire skate, even changing a combination jump to his sister's signature combination. Following the conclusion of his program, he skates over to Sara and the two hug.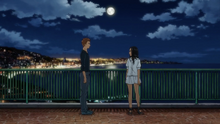 Michele is confronted by his sister, who tells him to stop being so dependent on her. At first, Michele is unable to come to terms with it, and clings to Sara, but later when he skates his free program, he vows that it would be the last time he skated for Sara. His skating becomes more mellow as a result, and he delivers a flawless program. At the kiss and cry, Sara runs over to Michele for an embrace, and apologises for her harsh words. Michele blushes at first, but is stunned when Sara adds that it was for the best.
Later, after the competition is over, Michele insists on coming to watch Sara's program the next day. Both of them encounter Yuuri, who accepts Sara's invitation for a hug. Michele shouts at Yuuri in anger, but Yuuri proceeds to hug Michele next, to Michele's bewilderment.
Michele, having accompanied Sara to the Grand Prix Final, sits with her and Emil in the audience. When Sara comments on Yuuri and Victor's pair rings, Michele wishes out loud that he could also have pair rings with Sara.
Michele watches the GPF free skate from the audience with Sara, Emil, and Mila.
Ad blocker interference detected!
Wikia is a free-to-use site that makes money from advertising. We have a modified experience for viewers using ad blockers

Wikia is not accessible if you've made further modifications. Remove the custom ad blocker rule(s) and the page will load as expected.