Mila makes a short cameo, waiting on the rink while Yuri watches Yuuri's skating clip which had gone viral.
Mila makes a short cameo, seen listening to Yuri complain to Yakov about Victor going to Japan.
Mila teases Yuri about his texts from Yuuko when he is reading them at the ice rink, and then proceeds to pick him up, saying that she has been practicing her lifts. She puts him down when Yakov appears and asks them whether they had become interested in pair skating.
She notes that Yuri has become more serious about practice following his return from Japan, and wonders what had happened to him there.
Mila is seen watching Georgi's short program on television along with Yuri and another rink mate. She comments that his performance makes her laugh every time, and that she could picture Georgi's ex-girlfriend was terrified of his performance.
Mila watches Yuuri's free skate in the Cup of China on the television along with Yuri. She teases Yuri when Victor states in an interview that Yuuri would win the Rostelecom Cup, to Yuri's anger.
Mila arrives at the Sheremetyevo Airport with Yakov, Lilia and Yuri. Upon seeing the Yuri Angels, Yuri asks Mila to watch over his luggage and disappears. Yakov informs Mila that Yuri is being picked up by his family.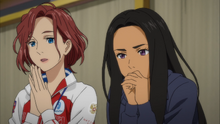 Mila watches the free skate in the audience with Georgi, and is later joined by Sara. Mila shows concern for Sara during Michele's performance, which Sara started tearing up to. Sara, who runs off to congratulate her brother at the kiss and cry, later rejoins Mila to watch Yuuri's free skate. As Yuuri performs, Mila comments that she wish she could see how Yuuri might have performed if Victor was around, instead of leaving Russia to return to Japan.
During an interview with Yakov, a flashback of Yuri's reveals that Mila had helped Yuri in his skating, and that Yuri was diligent in following Mila's movements.
Mila watches the GPF free skate from the audience with Sara, Michele, and Emil. She swoons at Otabek's performance.
Ad blocker interference detected!
Wikia is a free-to-use site that makes money from advertising. We have a modified experience for viewers using ad blockers

Wikia is not accessible if you've made further modifications. Remove the custom ad blocker rule(s) and the page will load as expected.