Otabek is seen at the press conference with Victor and Chris after the Worlds, having gotten bronze.
The MC announces that Otabek is currently in first place and that he is a confirmed qualifier of the Grand Prix Final. He had placed second in Skate America and then won the NHK.
Otabek is first seen at a hotel in Barcelona going for dinner alone. Jean-Jacques invites him to dine together, which he declines, and catches Yuri's eye in the hotel. Otabek smiles when Yuri questions him rudely, and leaves the hotel.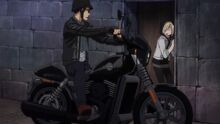 The next day, while Yuri is hiding from his fan club, Yuri Angels, in an alleyway, Otabek rescues Yuri on his motorbike, which the Yuri Angels snap pictures of. After escaping, the pair ends up at the top of the Park Güell municipal garden, where Otabek explains that he had met Yuri five years ago at Yakov's training camp, much to Yuri's surprise. Otabek shares a little of his childhood with Yuri, and asks Yuri to be friends, to which Yuri responds with a handshake. Later, Mari and Minako find the pair talking in a cafe. Yuuri and Victor invite them to dinner with Mari, Minako, Phichit and Chris.
Later on, Victor shows Otabek pictures of Yuuri at the previous GPF banquet. When Phichit congratulates Yuuri and Victor on their presumed marriage, Otabek is seen clapping at the announcement.
Before Otabek begins his short program, Yuri shouts his support from the audience. Otabek turns towards the sound and gives Yuri a thumbs up in response. During his performance, Sara notices that Otabek's skating is different from before, and Yuuri notes that Otabek's strength was his determination. As Otabek clears the rink, his determined expression is caught by JJ, who is later shown to be rattled by it.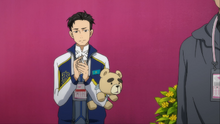 Otabek is the second-last to perform. During his entire skate, his monologue seems to be giving encouragement to someone to be free and live their life to the fullest. There is no specific person whom he addresses, but the scenes usually show Yuuri and Yuri when Otabek is silently speaking these lines. Otabek delivers a flawless performance and wishes luck to Yuri from the kiss and cry. Yuri hears this and gives a thumbs up in response. As Yuri finishes his free skate, Otabek is seen clapping happily for his friend.
Ad blocker interference detected!
Wikia is a free-to-use site that makes money from advertising. We have a modified experience for viewers using ad blockers

Wikia is not accessible if you've made further modifications. Remove the custom ad blocker rule(s) and the page will load as expected.