Seung-gil is first seen waiting for an elevator beside Yuuri at the hotel in Moscow. Yuuri states, in his head, that he does not know anyone, and the both of them do not interact with one another.. The elevator door opens, revealing Michele, Sara, and Emil. Sara greets Seung-gil and asks him for dinner, but he rejects her invitation coldly.
He is revealed to have won second place in the NHK Trophy in Japan.
Later, Seung-gil is the first on the ice for the short program. While he skates the program, he calculates the amount of points netted from his jumps, remaining unfazed even when he falls during one of them. Minako who is watching the Rostelecom Cup via livestream notes that Seung-gil has an amazing step sequence despite having a stoic expression. Seung-gil nets a satisfactory score, to which he smiles slightly at from the kiss and cry.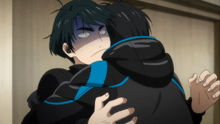 In Seung-gil's free skate, he falls while attempting a quadruple loop, which caused him to lose many points. Although he manages to recover for the rest of the performance, this mistake causes Seung-gil to be eliminated from advancing to the Grand Prix Final. Yuuri later catches sight of Seung-gil upset by this development and shedding tears.
After the end of the Rostelecom Cup, Seung-gil is one of the victims of Yuuri's hugging spree.
Seung-gil makes a short appearance, receiving a phone call from Sara before the GPF. He does not show interest in hearing from her and tosses his phone aside.
Seung-gil streams the GPF free skate over his laptop, and reads news updates of the GPF via his phone. He is most interested in JJ and Phichit's performances.
Ad blocker interference detected!
Wikia is a free-to-use site that makes money from advertising. We have a modified experience for viewers using ad blockers

Wikia is not accessible if you've made further modifications. Remove the custom ad blocker rule(s) and the page will load as expected.