Well, well... Was that a legitimate kiss or just a peck on the cheek?
Either way, this ship is quickly becoming one of my favorites.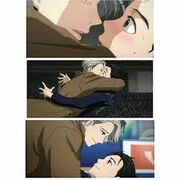 But it was a pity Georgi was not Dracula. I thought the story really fit in with his theme. Who would have thought of Sleeping Beauty as heartbreak related? And the fact that Phichit won gold was a huge surprise to me. Prior to this episode, I thought either Christophe, Georgi or Leo would get it.... Yuuri too, if he overcomes his nervousness.
All that said the episode met my expectations. And don't even mention episode 8
Finally, I'm gonna see Yuri's transformation. I have been waiting for this. Rostelecom Cup, here we come!
Ad blocker interference detected!
Wikia is a free-to-use site that makes money from advertising. We have a modified experience for viewers using ad blockers

Wikia is not accessible if you've made further modifications. Remove the custom ad blocker rule(s) and the page will load as expected.