Yuuri suffers a devastating defeat at his first Grand Prix Final, placing 6th and dead last. He attributes the loss partially due to the recent passing of his family dog and his habit of stress eating before major competitions. This loss causes him to lose sight of what he wants for his future, and he becomes unsure about whether or not to continue competitive figure skating. After the loss at the Grand Prix Final, Yuuri goes on to lose the Japanese Nationals and thus, misses out on qualifying for the Four Continents and World Championship, ending his season early.
Several months after his loss, Yuuri returns to his hometown of Hasetsu for the first time in five years. Immediately after his arrival, he is greeted by his former ballet coach, Minako. She takes Yuuri back to his home, where he's welcomed back by his parents Hiroko and Toshiya.
The first thing Yuuri does at home is pay his respects to his dog, Vicchan, who had died a couple months back. There, he's greeted by his older sister, Mari, who asks him if he's going to help out at the family inn from now on. He doesn't give her a straight answer, and she gives up and tells him that if he wants to continue skating, she'll continue to support him.
Later, Yuuri goes to Ice Castle Hasetsu, where he meets his childhood friend, Yuuko, who's an employee there. She lets him use the rink for practice and he in turn shows her the program he'd been practicing since his season ended, Victor Nikiforov's free skate, "Stay Close to Me." Unbeknownst to him, Yuuko's triplet daughters are also at the rink, and they film the entire program and later post it online. It goes viral within a matter of hours.
Thanks to the viral video, Yuuri ends up catching the attention of his idol, Victor Nikiforov, who shows up in Hasetsu the following day and tells Yuuri he's going to become his coach.
Yuuri is instructed by Victor that he will have to go on a diet and follow a training regime to return to his previous body weight. While returning from a run, he encounters Yuri Plisetsky at the entrance of Ice Castle Hasetsu. He learns of Victor's promise to Yuri and becomes horrified when Victor announces a one-on-one competition, named the 'Hot Springs on Ice,' between the two to resolve the dispute. Yuuri gets assigned to the arrangement "In Regards to Love: Eros." He fails multiple times in capturing the concept of his arrangement. His skills somewhat improve after he begins translating his love for katsudon on the rink but feels his performance is still lacking something. He finally ends up going to Minako for help.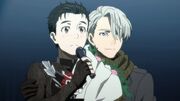 Yuuri is determined to win the 'Hot Springs on Ice' competition with the stimulus of pork cutlet bowls to bring out his Eros. The 'Hot Springs on Ice' begins. Yuuri delivers an alluring performance and wins the competition, meaning that Victor will remain his coach. It is later revealed that he asked Minako to help him move in a more feminine way using ballet. Victor stays as his coach and Yuri returns to Russia to continue training under Yakov.
Yuuri vows to Victor that he will win the Grand Prix Final, motivated by his win.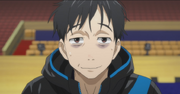 Yuuri listens to his family and friends congratulating him on his short program and encouraging him for his free skate. He is already very nervous, and this makes him even more nervous. Due to stress, Yuuri barely sleeps the day before the event. He comes to the rink exhausted and is unable to close a water bottle. Victor, noticing this, tells him to take a nap and drags Yuuri into a bed, collapsing on top of him. Yuuri, shocked, asks him if he has set an alarm.
Yuuri comes back to the rink later, still nervous, but more rested. Victor tells Yuuri to avoid doing any jumps during the warm up as he feels that if Yuuri misses any his confidence will drop further. Yuuri does a jump, regardless, and fails it.
When Guang-hong's free skate begins, Yuuri begins panicking even more due to stress and anxiety. When the announcer mentions Guang-hong doing a successful jump, Yuuri because even more pressured and turns off the TVs for watching the free skate. Victor notices this behavior, as well as the TV crew filming him, and guides Yuuri downstairs to the garage to calm Yuuri down. When it is nearly Yuuri's turn for his free skate, Victor's attempt to "shatter Yuuri's heart" results in Yuuri breaking down, crying, and confessing that he feels nervous because people would judge Victor based on how well Yuuri performs. Yuuri also mentions that he had been wondering whether Victor secretly wanted to quit and denies Victor's offer to kiss him to make him feel better. Yuuri then says Victor should believe in him, even if Yuuri didn't believe in himself.
Yuuri then does his free skate, Yuri on Ice. As noted by Victor, he is unnaturally calm, but to everyone else's surprise, Yuuri does a quad flip, which is an advanced jump and Victor Nikiforov's signature move.
After Yuuri's free skate, Victor kisses Yuuri and tells him that the kiss was the only way to surprise him more than Yuuri has surprised Victor.
Ad blocker interference detected!
Wikia is a free-to-use site that makes money from advertising. We have a modified experience for viewers using ad blockers

Wikia is not accessible if you've made further modifications. Remove the custom ad blocker rule(s) and the page will load as expected.